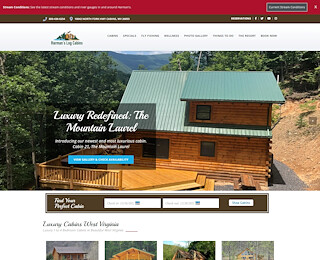 You may rent a West Virginia cabin from WV Log Cabins year round, ideal for those who wish to visit the Monongahela Forest anytime of the year. This region is an excellent vacation destination, for exciting summer rock climbing, hiking, wildlife watching, and fishing, or winter skiing, snowshoeing, tubing, and snowboarding.
If you are looking for ideas for a unique and truly unforgettable wedding ceremony, one of the things you can do is organize a wilderness wedding. You can book a luxurious West Virginia cabin, which can serve as your base for an exciting and unique wedding ceremony with your loved ones. There are many breathtaking and one-of-a-kind locations in West Virginia where you can have your wedding. One of them is Seneca Rocks, a tall rock formation famous among climbers who love a challenge, as well as for avid hikers and walkers.
Consider having your wedding on top of Seneca Rocks where you can enjoy the view and feel like you are on top of the world. Exchange vows with your bride or groom with a lovely backdrop consisting of the Hopeville Canyon or the North Fork River. There are companies that can help you organize your wedding there, but make sure that they operate in West Virginia and have direct connections with the management of Monongahela National Forest.
Harman's Luxury Log Cabins can help you with your wedding plans. We specialize in providing high quality cabins in West Virginia, but we also offer wedding planning services that can help make your wedding plans a reality, starting from a luxurious West Virginia cabin. Our planner will help you organize everything, starting from the tiniest details to the ceremony and the location of your reception. Call us today at 304-257-2220 or 800-436-6254 to get started on an estimate. You may also check out our selection of luxury log cabins here in the Harman's Luxury Log Cabins website.
West Virginia Cabin
Related Posts
We welcome your comments!