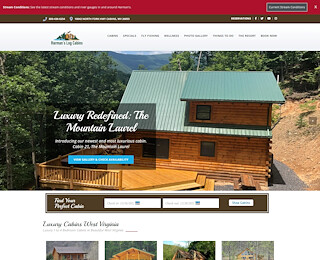 One of the most awaited seasons of trout anglers in West Virginia is that of the trout stocking WV. During this season, streams and rivers around the state are made brimming with trout and finding fish is not a problem at all. Trout stocking is the artificial man-made effort of filling streams and rivers with trout after every fishing season, which may leave the said body of waters devoid of their fish life. Needless to say, stocking ensures that there is proper supply or Ďstockí of trout so that tourists and fishermen alike can expect good catches all year round.
    
Trout stocking WV is a statewide effort and it is carried out by the West Virginia Division of Natural Resources. It is usually conducted in public bodies of waters which people have easy access to. These include places along roads and bridges, sometimes directly in woodland streams. On the average, more than a million fish with an average length of 12 inches are stocked in West Virginian waters to keep the supply running, or in this case Ėswimming.
Private stocking
Aside from state-run stocking programs, there are also several privately-run trout stocking WV programs. These are usually conducted by owners of log cabins and cottages around West Virginia. These people are permitted by the state to stock trout in parts of streams, lakes, rivers, and reservoir that are within the premises of their camp or resort.
   
Log cabin resorts are perfect if you want to go trout fishing uninterrupted because few restrictions and rules are imposed on fishing within these private areas. Moreover, these resorts have a regular
trout stocking wv
schedule which they announce in full to clients. This is to make sure that the people vacationing with them are well informed regarding the best time to catch trout.
More than trout stocking and fishing
The best thing about private cabins or cottages, however, is that they offer activities other than trout fishing. Here, you can enjoy the full outdoor experience by going biking, hiking, rock climbing, caving, and canoeing among others. Most cabins are also strategically situated near beautiful sceneries such that the vacationers wake up each morning to a good view.
Best log cabins
For the best log cabins in West Virginia, the only place to be is Harmanís North Fork Cottages. Our log cabins are located in the West Virginia Mountains near the banks of a private trout stream. We ensure the supply of fish in this steam through a private year-round trout stocking WV program. Have the best trout fishing experience of a lifetime while enjoying the beautiful outdoors simply by reserving one of our cabins through this website or by phone at 800-436-6254.¬†
Trout Stocking Wv
Related Posts
We welcome your comments!