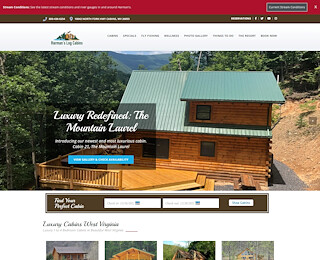 Each of Harman's cabins in West Virginia come with a fireplace, satellite TV with VCR, private outdoor tub or Jacuzzi, a kitchen (with a refrigerator, stove, dishwasher, toaster, microwave, coffee maker, pots and pans, dishes and utensils), air-conditioning, and even linens, washcloths and towels. Renting a cabin from Harman's is just like renting out a luxury hotel room.
When renting a cabin, location is everything, especially if you want the adventure to start right at the doorstep. Rental owners are wise enough to put up their properties very close to the best attractions in an area, it's up to you to choose the best location that will satisfy your need for sights and activities. If you are looking for affordable vacation rentals and cabins in West Virginia, look no further than WV Log Cabins, a leading provider of cabins and cottages for visitors to one of the most beautiful stretches of wilderness in the state, the Monongahela National Forest, where the famed Seneca Rocks can be found.
Relaxation and adventure are the main goals of adventure trips, which is why you should choose your accommodation wisely. Narrow down your choices to cabins that are close to the destinations you want to visit so you won't have to waste your valuable vacation time on long hikes just to get to a certain attraction. If you can, choose cabins in West Virginia that are within walking distance of ski slopes, hike trails, as well as lakes, if you want to fish or swim. WV Log Cabins offers excellent choices of luxurious cabin accommodation, each within a short distance of the best tourist attractions in the mountains, like the Spruce Knob Seneca Rocks National Recreation Area as well as the Dolly Sods Wilderness Area, where great activities await, including hiking, canoeing, mountain biking, rock climbing, skiing, fishing, and even hunting.
Cabins In West Virginia
Related Posts