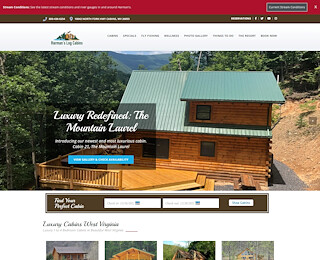 The Monongahela National Forest is one of the most ecologically rich locations in West Virginia, popular among adventure and thrill seekers looking for unique experiences with nature. Cabin Rental in WV are available from WV Log Cabins, a leading provider of relaxing riverside and mountain lodgings within the most attractive natural locations in West Virginia.
You will have no shortage of things to do during your holiday in the Virginia Mountains. Its largest stretch of nature—the Monongahela National Forest—is one of the most biologically diverse places to visit in the region, frequented by adventure lovers who are constantly looking for new experiences. The area is filled with exciting places to discover, ranging from wildlife-infested forests to sulphur springs, wilderness areas, hike and climb sites, and many other interesting attractions. WV Log Cabins offers you cabin rental in WV right next to the most sought after tourist spots. We have units for rent within the radius of popular destinations like Seneca Rocks and Spruce Knob, as well as the riverside areas, where fishing and boating are popular.
There are over 20 different campgrounds in the Monongahela forest, each offering great experiences. But if you want a more luxurious lodging, go for a cabin rental in WV from WV Log Cabins. These cabins are very close to the best recreation areas in the region, ranging from dolly sods to other state parks like Lost River and Canaan Valley. All 900,000 acres of the Monongahela National Forest offer new and exciting experiences and activities to look forward to. Seneca Rocks is among the best rock climbing sites in the region, with its 900-foot high rock formations and hundreds of mapped climbing routes, plus trails that lead to the best vantage points from which to view the beauty and splendor of the surrounding nature.
Cabin Rental In Wv
Related Posts
Among the many Harman's cabins in WV is a privately-owned family cabin that can accommodate as many as seven adults. The luxurious and spacious cabin has 1.5 baths, a loft (with a master bedroom and a bath), two downstairs bedrooms (one with a bunk bed and twin bed, and the other with a queen bed), a complete kitchen, and an extra room with a sofa bed. Like all other WV cabins from Harman, it has a private hot tub outdoors.
We welcome your comments!